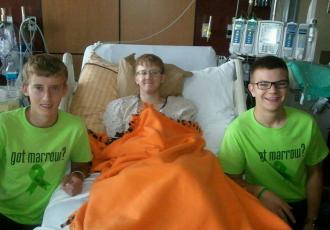 They were brothers. Best friends. Bonded for life. They enjoyed skiing, hunting and riding motorcycles – things teenage boys do. But, in October 2012, life took a very dramatic turn for Tyler and Tanner Snow, when Tyler came home from college with a bad stomachache.
"It was hard because nobody knew what was wrong with him," remembers 18-year-old Tanner. "It was a difficult and scary time."
Tyler's stomachache lingered for a week. When he started vomiting blood, his parents rushed him to the emergency room in Kearney, Neb. Doctors ran a number of tests and referred Tyler to Mojtaba Akhtari, MD, an oncologist/hematologist at The Nebraska Medical Center.
"When I first met Tyler, I thought his illness could be a diagnostic challenge," says Dr. Akhtari. "He was very young, pale and chronically ill. I was worried about him."
After running more tests, Dr. Akhtari was able to diagnose Tyler with paroxysmal nocturnal hemoglobinuria (PNH) and aplastic anemia.
"PNH is a very rare blood disorder in which red blood cells are destroyed by the immune system and it could be associated with an empty-looking bone marrow," explains Dr. Akhtari. "Aplastic anemia is when the bone marrow gets wiped out by the immune system and blood numbers drop. Patients need frequent transfusions and could die due to infection or bleeding."
Given the seriousness of the situation, Dr. Akhtari began consulting with other doctors around the country. They came to the conclusion that Tyler would need a bone marrow transplant, or he may not live to see his 30th birthday.
"It didn't matter what it took to get well," says 20-year-old Tyler. "I didn't have very long. Everything kept going downhill and I needed a life saver."
Doctors began looking for a bone marrow donor. Immediate family members were tested first, but none proved to be a match.
"Our family is very close, so I was bummed when I found out I couldn't help my brother," admits Tanner. "I wanted to make things better."
Determined to make a difference, Tanner looked to his fellow high school students for help. "Each year, the senior class does a blood drive. So, we decided to host a bone marrow drive too," smiles Tanner. "It was great. We live in a small town, so people made meals and volunteered. Word got around. More than 100 people signed up on the bone marrow donor registry."
Unfortunately, none of the donors in the brothers' hometown of Litchfield, Neb., were a match. But, in May 2013, doctors found an anonymous donor.
"All I know is it's a young male who lives outside the United States," says Tyler. "I wrote my donor a letter and hope to be able to meet him one day."
Once the donor was located, things started moving quickly for Tyler. He had chemotherapy for six days prior to the transplant, in order to kill off the bone marrow that was already in his body. Finally, on June 12, the bone marrow transplant took place.
"The cool part was that I could see the clumps of cells going into my body," remembers Tyler. "I immediately felt better. No more fatigue, no more headaches."
Four months after the transplant, the Snow brothers were met with another surprise – this time on Tanner's end.
"I got a phone call saying I was a bone marrow match for someone!" recalls Tanner. "All I know is that it's a woman in her 40's who has leukemia. It's really exciting knowing I can help someone."
While the transplant has yet to be scheduled, Tanner and Tyler are seizing the moment and encouraging everyone to sign up on the bone marrow registry.
"It's so easy. Just go to bethematch.org and they'll send you a free kit," explained Tyler. "You could save a life."
For now, the Snow brothers plan to live life to the fullest – knowing exactly what they're grateful for this Christmas.
"We are so thankful for Tyler's donor; but especially the doctors and nurses at The Nebraska Medical Center. They saved my brother's life," says Tanner. "This entire experience has brought our family closer together. You never know what will happen the next day."